Edgewood Men's Basketball Tryouts for the high school basketball team grades 10-12 will begin on Friday, October 30 at 3:00 pm. at Edgewood High School. We will also have try-out on Saturday, October 31, 9:00-11:00 am. Freshman boys will start try-outs on Monday, November 2, at 3:00 pm. Everyone must tryout every day; if there is an emergency situation then you must notify the head coach prior to try-outs. If you miss try-outs without being excused by the head coach, you will eliminate yourself from being selected. Those athletes who are still playing football on Friday, October 30, will need to report to try-outs on Tuesday, November 3 at 3:00 pm. Team selection will not be made until every fall sport participant has had an opportunity to try-out. Those who are not in a fall sport during try-outs may be cut at anytime once try-outs begin. You must have all documents on final forms signed both player and parent. You cannot try-out if you do not have a current physical on file in the athletic office. Any questions please contact Head Coach Thomas
john.thomas@edgewoodschools.net
Edgewood Men's Basketball Tryouts for the middle school basketball team grades 7/8 will begin on Friday, October 30 at 3:00pm. at Edgewood Middle School. Try-out times are as follows: Friday, October 30, 7th grade 2:30-4:00 pm Friday, October 30, 8th grade 5-6:30 pm Saturday, October 31 7th grade 8-9:30 am Saturday, October 31, 8th grade 9:30-11:00 am Monday, November 2, 7/8th grade 2:30-4:00 pm Everyone must tryout every day; if there is an emergency situation then you must notify the head coach prior to try-outs. If you miss try-outs without being excused by the head coach, you will eliminate yourself from being selected. You must have all documents on final forms signed both player and parent. You cannot try-out if you do not have a current physical on file in the athletic office. Any questions please contact Coach Smith at
chad.smith@edgewoodschools.net
Tonight's playoff game at Winton Woods (Friday, October 23) has been postponed and rescheduled for tomorrow (Saturday, October 24) at 5:00pm. Purchased tickets for tonight's game will be good for tomorrow night's game.

Edgewood Middle School was placed on lockdown this morning upon learning of a threat made by a student on a social media post. Action was immediately taken to identify the student. The student was not at school and posed no threat to others. The lockdown has been lifted at EMS. All students and staff are safe and classes will resume as normal for the remainder of the day.

To our Edgewood community, please join us on Monday, Oct. 12 at 6:30 pm for our Virtual Community Forum. We want your input on the Facility Master Plan options developed by the Edgewood Community Advisory Team. Click here for details on how you can attend:
https://bit.ly/3jDGwia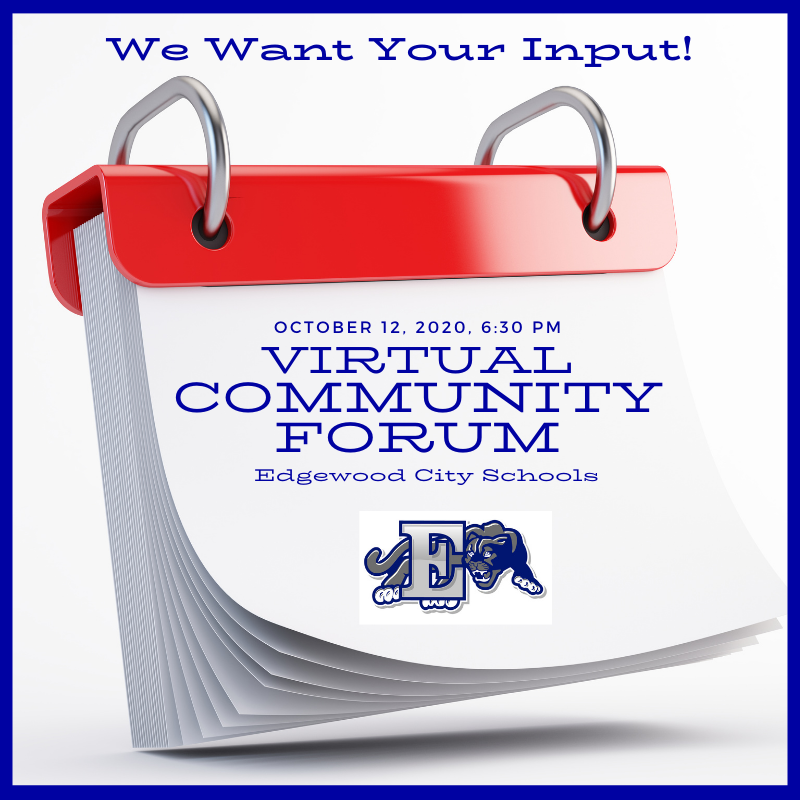 If you were planning on watching the Facebook Live Virtual Grand Opening & Virtual Tour of our new student-based health center, operated by Primary Health Solutions, there were technical difficulties with this afternoon's Facebook Live event. You can still "take" a virtual tour of the health center by clicking this link:
https://bit.ly/3nsSxcK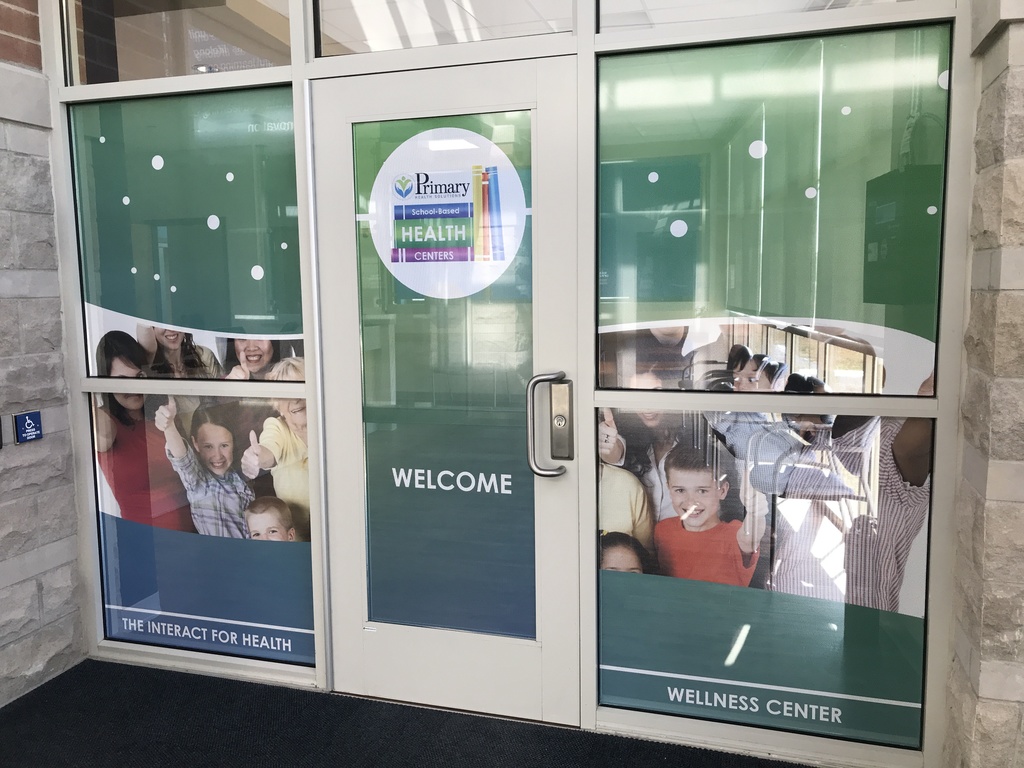 Mark your calendar! Our Edgewood Band Boosters are hosting a fundraiser on Oct 6, 5-9 pm. Your support will help our band & guard program. If you'd prefer, you can participate through the app/online. Use Code B6JZF9Z before checkout in the 'promo' field & then pick up your order!

Our EMS STEM students had a great time testing their Egg Drop Devices today. They were challenged to create a container from only paper & tape that would protect a raw egg when dropped from over 25 feet. A fun way to test our students creative design & engineering skills.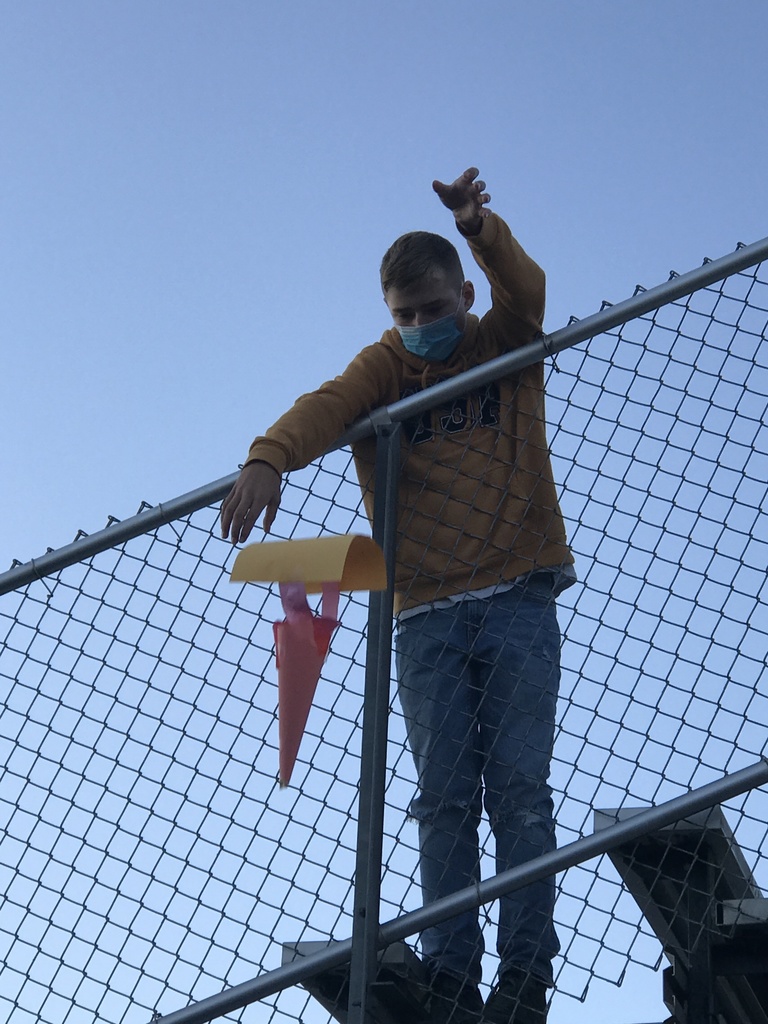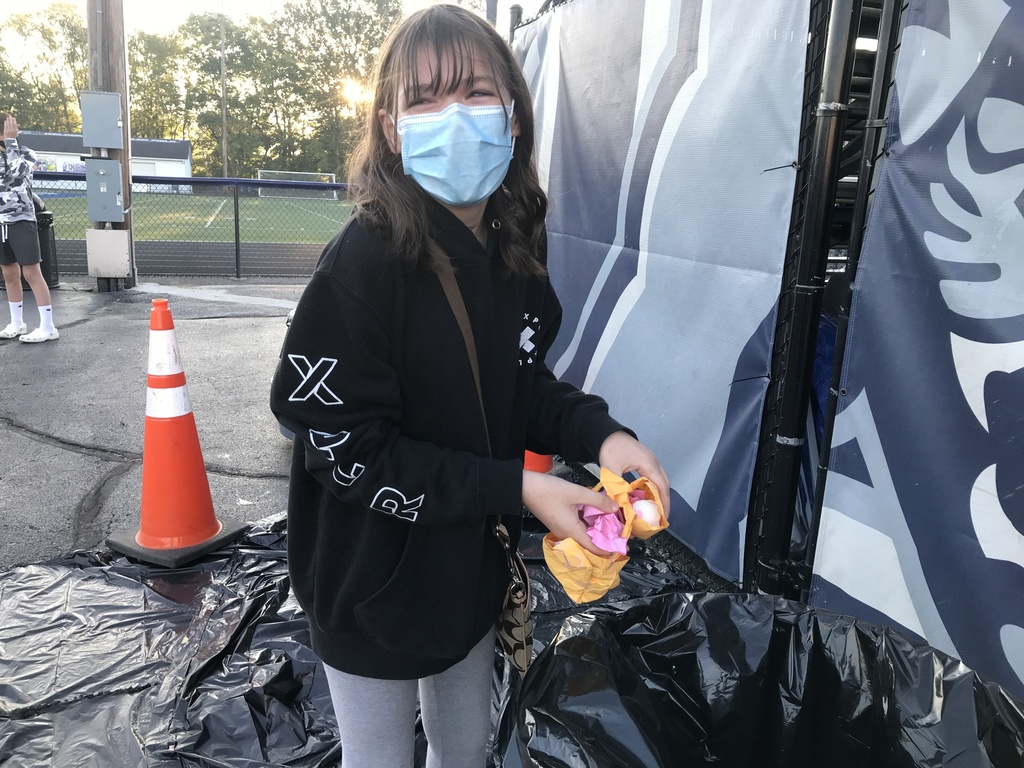 Cougars, starting Monday, 9/21, all students attending school IN-PERSON will receive FREE breakfast & lunch. The United States Department of Agriculture (USDA) has extended waivers that allow us to offer 1 FREE breakfast meal & 1 FREE lunch meal each school day. The offer is available through December 31, 2020. Students may continue to purchase items a la carte where available. We are finalizing plans to provide this offer to our Remote Learners. Details will be issued by the end of this month for our Remote Learner students.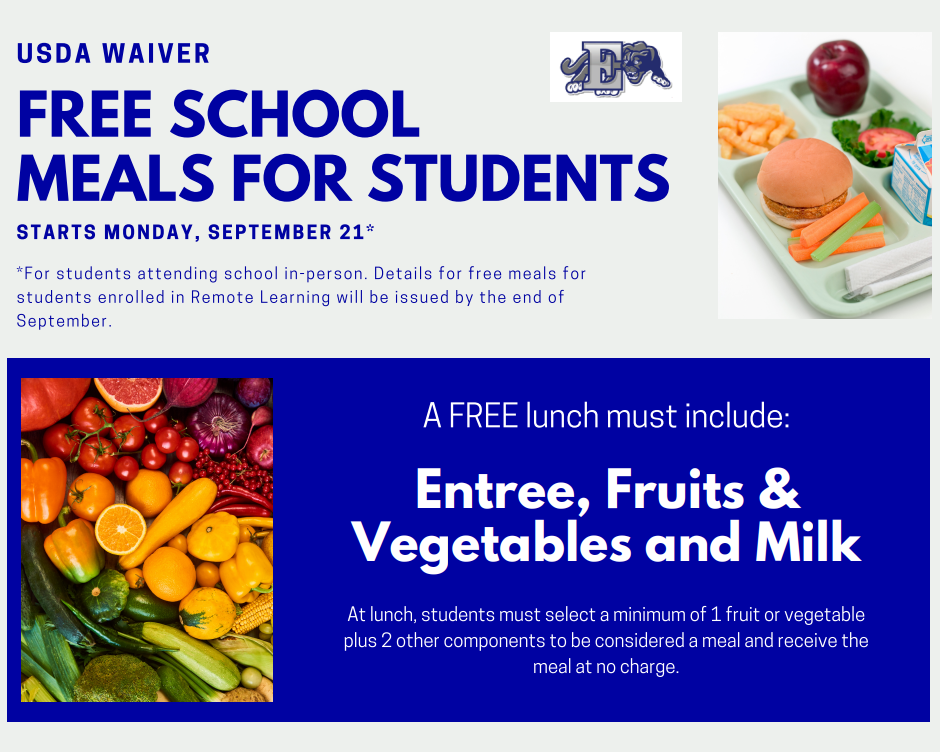 Did you know today is Constitution Day? It was formed & signed at the Constitutional Convention on September 17, 1787. More than a year after George Washing became president, Congress issued the responsibility to conduct the 1790 Census to count every person living in the U.S. under the requirements of Article 1. Join your fellow Americans in 2020 in exercising your Constitutional right by participating in the #2020Census. Click here to complete the census for you & your family.
https://2020census.gov/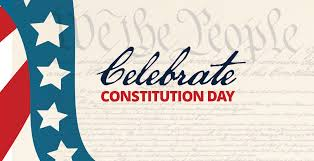 The active threat has been resolved at Edgewood City Schools. Please read the attached notification that has just been issued for more details. All after school activities will take place today, September 16, as scheduled.
https://bit.ly/33CH6Gn

Edgewood Middle School students can now be picked up from Cougar Lobby. All students are safe and will be held in the school until their parent/guardian arrives to pick them up. Enter through the rear door at Cougar Lobby. Parent/guardian must bring their ID to pick up your student.

EMS students who arrived early to the building this morning have been placed in lockdown & are safe. We will provide additional information regarding how parents can be reunified with their student shortly. Once reunification details are released, parents will be able to pick up their student at Cougar Lobby. Parents/guardians MUST bring identification with them in order to pick up their student.

All Edgewood City Schools are cancelled today, September 16, due to an active threat. No students or staff are to report.

Have you responded to the #2020Census? Time is running out! Make sure you and your family are counted. Click here to complete the census:
https://2020census.gov/

Information regarding Edgewood's upcoming Homecoming events have been posted. Read here for details:
https://bit.ly/3iyuDda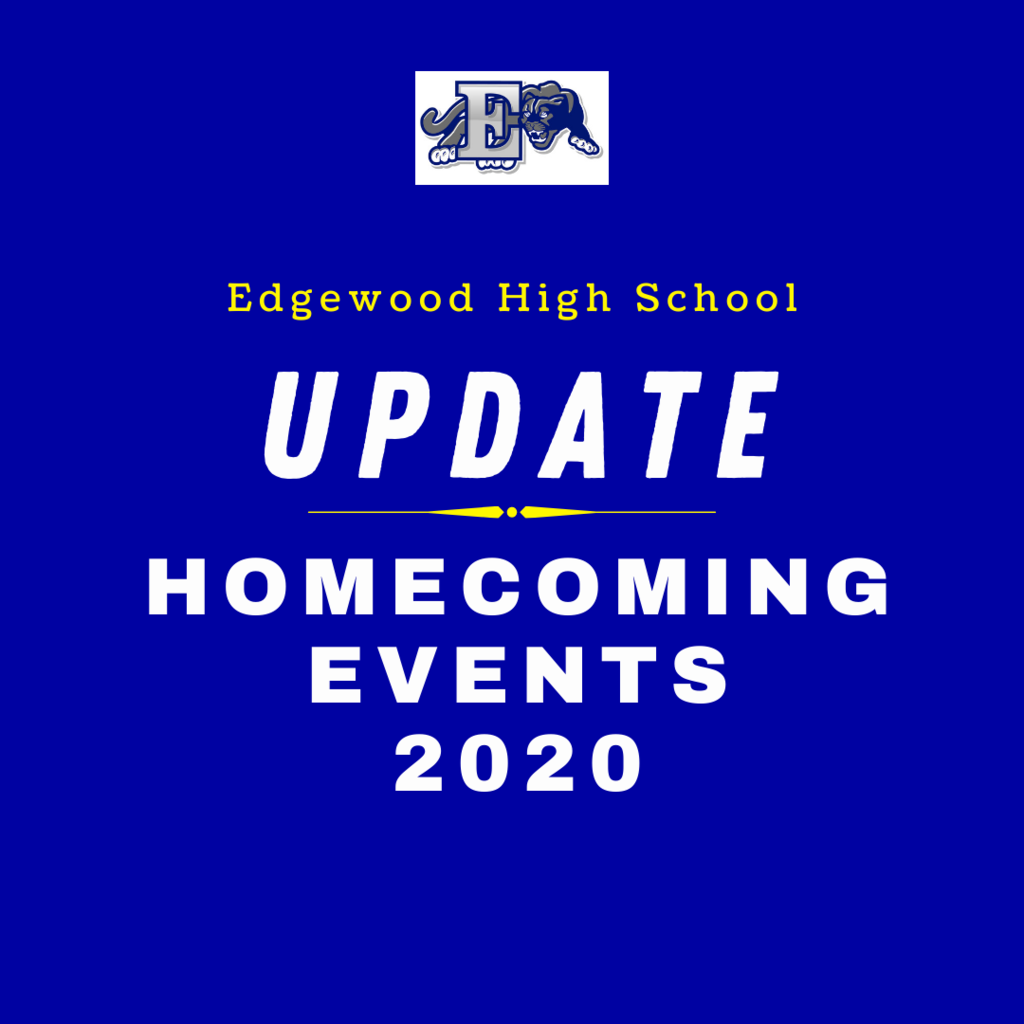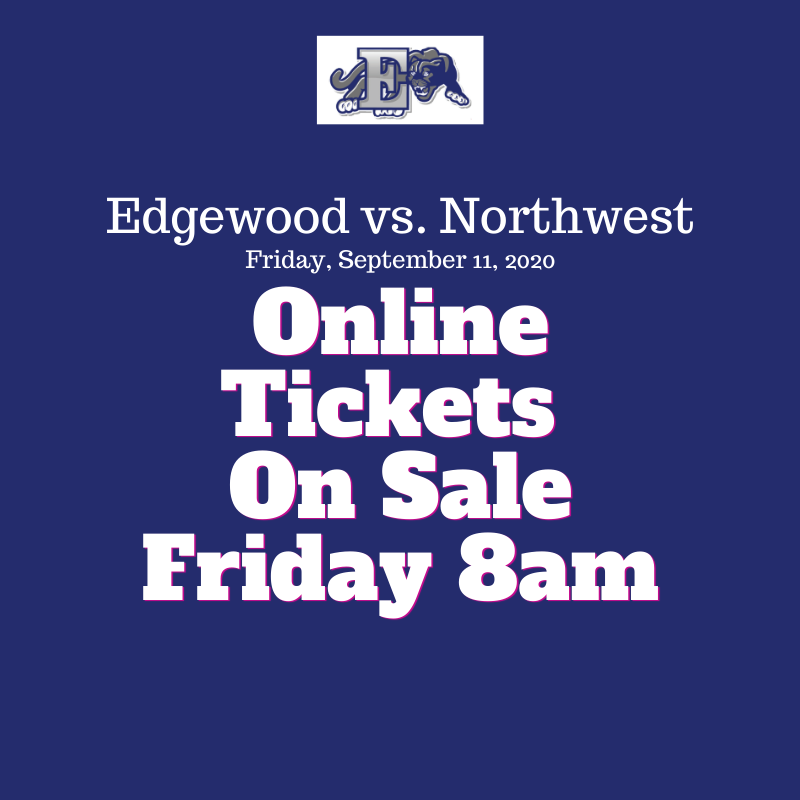 Edgewood is hiring individuals for Paraprofessionals, Bus Drivers, Nurses (must be a LPN or RN), Cook's Helpers, & Custodians on an as-needed basis. If you are looking for a job with flexible hours in any of these areas, please send your resume to:
mary.wenzel@edgewoodschools.net

Edgewood families, Bus 17 was involved in a hit and run accident this morning, September 8. Fortunately, no students were on the bus and the drive was not injured. Trenton PD is now on the scene.

Edgewood parents/guardians & staff members, please check your email for important information regarding new reporting requirements for positive COVID-19 cases in K-12 schools. These requirements were issued by the Ohio Dept. of Health and will go into effect on Tuesday, Sept. 8.