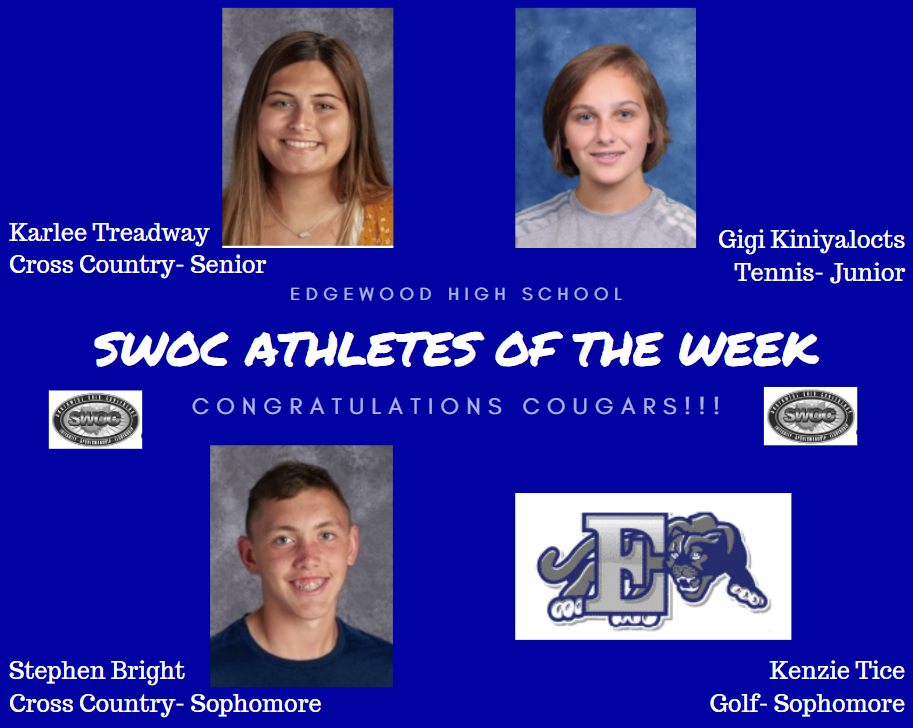 SWOC Athletes of the Week
Pam Pratt
Tuesday, September 08, 2020
Congratulations to these four EHS student-athletes for being selected as the SWOC Athletes of the Week, for September 7-13: Karlee Treadway, Gigi Kiniyalocts, Stephen Bright & Kenzie Tice. The details regarding each of these students' accomplishments for this week are provided below. Great job Cougars. We're so proud of each of you!
Karlee Treadway
Senior- Cross Country
Karlee has an amazing mindset and in three meets she has taken 10 minutes off of her time! Fantastic effort!
Gigi Kiniyalocts
Junior- Tennis
Gigi is the staple of the Edgewood program. She won both of her matches this week, against Mt Healthy and Harrison. Her play has been steady and above what is expected of a younger player. Her resolve to play her best has been paramount to helping build a young team into a Conference contender. As a Captain, Gigi has been instrumental in motivating her teammates to be better each week.
Stephen Bright
Sophomore- Cross Country
Stephen was the Cougars top finisher, for the guys, and ran a season PR. Great effort!
Kenzie Tice
Sophomore- Golf
Kenzie has worked hard throughout the season and that was shown at her last match, shooting a season low 41.