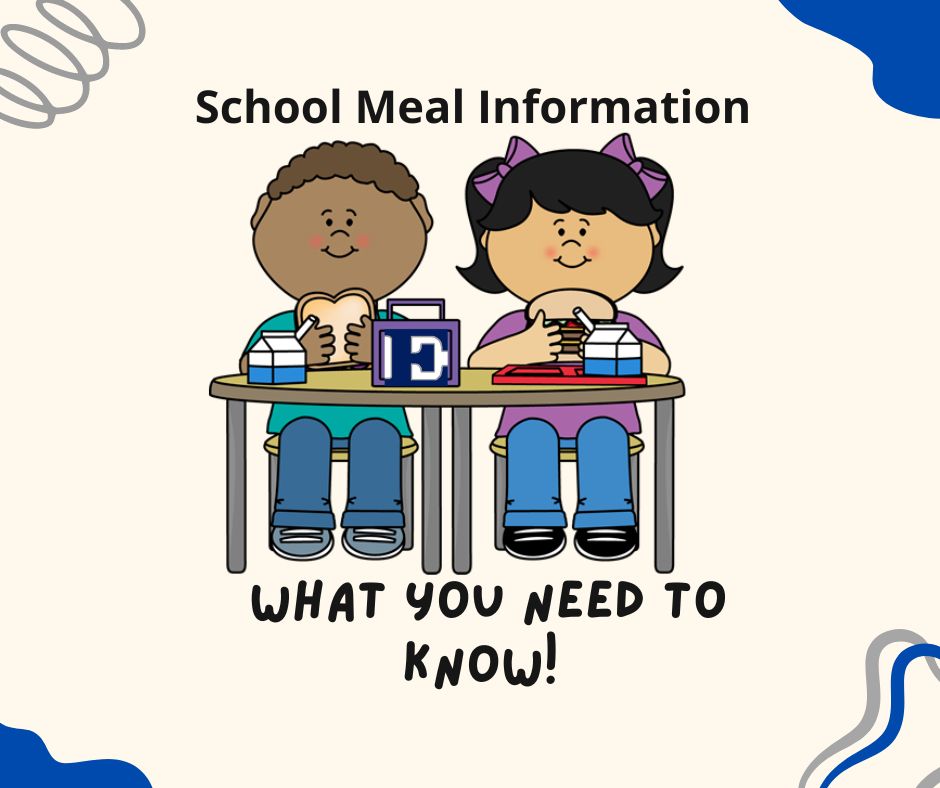 Meal Pricing & Free and Reduced Meal and Fee Waiver Program Information Provided to Families July 2023
Meal Prices 2023-2024
Breakfast - $1.75 All buildings

Lunch – Edgewood Primary, Edgewood Intermediate, Edgewood Early Childhood Center $3.25

Lunch - Edgewood Middle & High School $3.50




As we approach the 2023-2024 school year, we would like to inform you of some important changes that will take effect with the start of the new school year as well as information about PaySchools and the Free and Reduced-Price Meal Program. Thank you for your patience during this process while we transition to the new Payschools system. You should now be able to go into the system and begin the registration process, start making payments on lunches and fees, and apply for the Free and Reduced Meal Program.

If you have any questions, please contact David Jewell at david.jewell@edgewoodschools.net.

Thank you and we look forward to serving your students this year.



PAYSCHOOLS
Registration:
Families will need to establish an account for making payments toward meals and fees, apply online for the Free and Reduced Priced Meal Program, and more by visiting www.payschoolscentral.com or by downloading the PaySchools Central App available on IOS and Android.
Review the Parent Flyer to learn the top 3 reasons to apply for free-or-reduced school meals.
An easy how-to guide for applying for Free and Reduced Priced Meal Benefits within PaySchools Central, is found HERE.
Paper Application: Access Edgewoodschools.com to download a paper application.
Free and Reduced-Price Meal Program:
If your family has never applied for the Free and Reduced-Price Meal program, there is a quick and simple way to apply. Applications will be available (either from your student's school or on our website) and accepted, as in the past.

All applications submitted under the previous website (lunchapplication.com) are invalid and will need to be submitted under the new format with PaySchools.

Online or paper applications can be submitted anytime throughout the school year as family status changes (i.e. loss of job, reduction of hours or pay, birth of a child, etc.).

If your child qualifies for free lunch status, they may be eligible for a school fee waiver. Please be aware that you must click and sign the section of the application that applies to fee waivers giving permission for your child's status to be shared with other departments in order to have their fees waived. Please make sure if you complete a paper application you do the same to qualify for a fee waiver. Fees can only be waived if this is checked and signed and your child qualifies for Free status.

If your child qualifies for Reduced Price Status, for this school year, the State of Ohio will also allow Reduced Price Status to receive their meals at no charge. The school fee waiver does not apply to students in Reduced Priced status and those students will still have school fees due.
Notifications being Emailed to Pre-approved Families:
Notification to families who were pre-approved for the Free and Reduced-Price Meal program will be emailed to homes during the week of August 9-14, 2023. If you receive a notification letter, please review it carefully for details and information relative to your family.



If Your Family Participated Last Year in the Program:
If your family participated in the Free and Reduced-Price Meal program during the 2022-2023 school year, they will start the 2023-2024 school year under the same status. However, this is only TEMPORARY as a new application must be submitted before September 28, 2023.

Families are encouraged to submit their Free and Reduced-Price Meal applications online for quicker processing.

If you are unable to complete the application online, a paper version of the application can be obtained at the district website.



Reminder for Kindergarten Parents/Guardians:
We encourage parents/guardians of Kindergarten students to apply for the program. (If you had a Preschooler last year, they were not eligible for the program). This is especially important if there are siblings in your family that received the Free or Reduced-Price Meal benefit last year.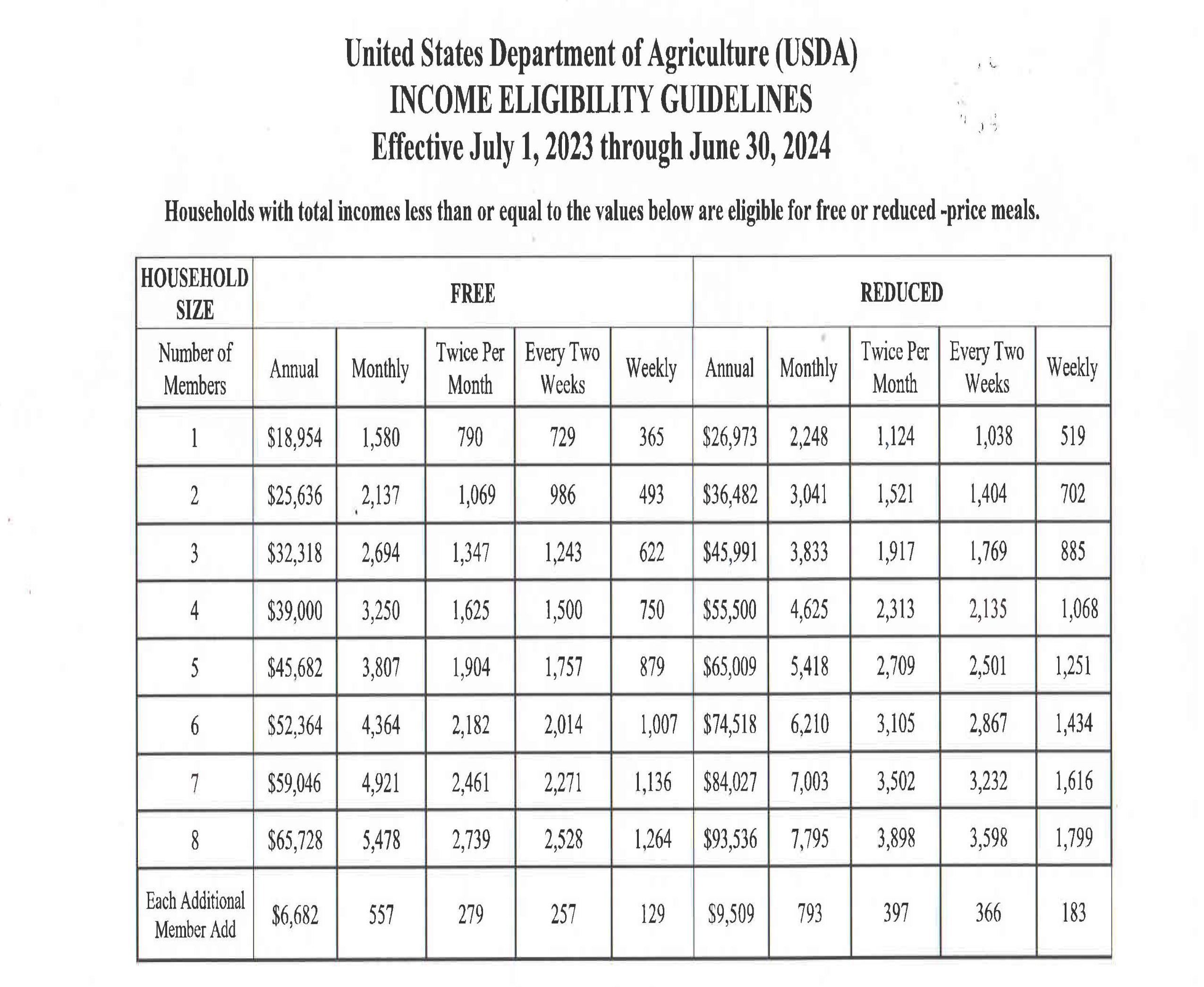 For assistance in completing your application, please call Mr. David Jewell, Edgewood Food Service Supervisor, at (513) 867- 3418, Monday-Friday, 8:00 am- 4:00 pm.

Only complete one application per family unless changes or updates must be made. The information you give will be used to determine or prove your child's eligibility for free or reduced-priced meals. This information may also be used for other state or federally-funded school benefits.

If you would rather complete a paper application, that option is available as well. YUse the links down the left side of this page for the printable version and directions. Just print the application, and complete the form, then return it to your child's school secretary or mail it to:
Mr. David Jewell
Edgewood City Schools
3500 Busenbark Road
Trenton, Ohio 45067
Meal Charges
Effective October 1, 2017, students grades K-12 on paid or reduced-priced status will be allowed a yearly maximum charge of $15.00 for the school year. This charge balance is the responsibility of the parent and must be paid upon notification. No ala carte items are eligible for charging. The Edgewood City Schools Food Service Department will be responsible for maintaining charge records, and notifying the parent/guardian of outstanding balances and the need for payment, in conjunction with the school office staff/administration, via email, texting, telephone, or written documentation.
Notification will be made to the parent/guardian once the $15.00 charged limit has been reached.

It is the responsibility of the parent/guardian to provide the necessary funding to the student's meal account in order for purchases of food items to continue.

Payment can be made online via PaySchools on the district website or funds can be sent directly to school with the student either by check or cash.

Once the charge limit is reached, a student will be provided an additional (5) meals which includes breakfast and lunch while funds can be placed on the student meal account. Any additional charges incurred for all meals will be the parent's responsibility.
General Information
The Edgewood City School Food Service Department operates five on-site preparation kitchens. The cafeterias serve lunch and breakfast at each location daily. Continual efforts are made to improve the service and quality of the products we provide our customers.

It is the goal of our Food Service Department to contribute to the physical and mental well-being of each student, enhancing their opportunity to participate fully in daily educational activities. This can be achieved by providing wholesome, high-quality, nutritious, and appetizing school lunch/breakfast served in a courteous manner in a pleasant environment.

This goal is done so in the most efficient and cost-effective means possible. To increase the acceptance and consumption of school lunch, we utilize a provision known as "Offer versus Serve" in all of our lunch rooms. This option reduces food waste by allowing children to choose three of the five meal components offered at each lunch; although it is recommended all five components be taken as the better value.
The five components are:
Meat /Meat Alternative: lean meat, cheese, eggs, peanut butter.

Grains/Breads:

Fruits: fresh, canned or frozen

Vegetables: fresh, canned or frozen

Fluid Milk: low fat milk is offered.
Eating breakfast has proven benefits of overall better health, better test scores, and fewer disciplinary problems. These are all excellent reasons to encourage your child to eat breakfast every morning.

The Food Service Department provides our students and employees with wholesome appetizing food choices. This is important as it contributes to the physical and mental growth of our children. The Department is operated as a business. All costs including salaries associated with the Food Service Department are paid by money collected from students, staff, and federal reimbursement for participation in the National School Lunch and Breakfast Program.
| | | | |
| --- | --- | --- | --- |
| | Grades K-5 | Grades 6-12 | Adults |
| Breakfast | 1.75 | 1.75 | 2.25 |
| Reduced Breakfast | .30 | .30 | |
| Plate Lunch | 3.25 | 3.50 | 4.40 |
| Reduced Lunch | .40 | .40 | |
| Milk | | | |
Secondary schools offer a daily choice of:

Secondary schools offer a daily choice of:

Hot Lunch
Chef Salad
Hamburger or Cheeseburger on Bun
Pizza
Sub Sandwich

Hot Lunch
Chef Salad
Hamburger or Cheeseburger on Bun
Pizza
Sub Sandwich
Breakfast:
Each BREAKFAST provides at least ¼ minimum of the RDA's* for your student. The foods are:
2 Servings (2 oz.) Breads, Cereals, Grains
1 Serving (4 oz.) Fruit or Fruit Juice
1 Serving (8 oz.) Milk
OR
1 Serving (1 oz.) Bread
1 Serving (1 oz.) Meat or Eggs
1 Serving (4 oz.) Fruit or Fruit Juice
1 Serving (8 oz.) Milk
Lunch:
Each LUNCH provides at least 1/3 of the RDA's* for your student.
1 Serving (2 to 3 oz.) Protein Foods (Meat/Cheese)
2 or 3 Servings (2 to 3 oz.) Breads, Cereals, Grains
2 or more servings (3/4 cup or more) Fruits and/or Vegetables
1 Serving (8 oz.) Milk
* RDA= Recommended Daily Allowance
Food Allergies
Parents please contact the school nurse if your child has any food allergies or restrictions. Students who are lactose intolerant must have a written notice from a health care professional in order to receive juice in place of milk. USDA guidelines prohibit serving substitute drinks to students without written medical directives from a medical authority. Notes from parents requesting any beverage other than milk are not acceptable under USDA guidelines of the National School Lunch Program.
Returned Checks
A $29.00 charge will be assessed for a returned check. Additional checks will not be accepted until all fees are paid. For a second offense, no checks will be accepted for the remainder of the school year. Call the Food Service office at 513-867-3400 Ext. 3127 to arrange for payment.
Cafeteria Manners
Students are encouraged to use good manners in the dining area. This includes sitting in their seats until excused by lunchroom monitors, talking softly at the table and cleaning up after themselves.
Wellness
Edgewood City Schools will promote a supportive approach for parents to be active role models and to encourage their children by making suggestions about healthy choices from the school menu. Parents are discouraged from bringing in fast food or soft drinks into the cafeteria for student lunches.
About the School Lunch Program
The U.S. Congress created the school lunch program in 1946 in the belief that "it is a measure of national security to safeguard the health and well-being of the nation's children." The objective of the program is to provide nutritional meals at an affordable price. Menus meet USDA Dietary guidelines for Americans. The meal pattern has four components: meat/meat alternative foods, fruits and vegetables, bread/bread equivalent foods and fluid milk as a beverage.
Can Parents Help?
You have already helped by encouraging your child to buy a nutritious school lunch. Sound nutrition is the basis for growth of body and mind. We do offer employment opportunities. Short hours are available. A great way to earn income while your students are in school.
Are School Lunches Healthy by Today's Standards?
Conscientious efforts are made to reduce the amount of salt, fat and sugar in the diet in keeping with UD Dietary Guidelines. This is because eating habits develop early. The healthy diet consists of a variety of foods eaten in moderation. This is the reason most schools offer students a choice of menus or menu items.