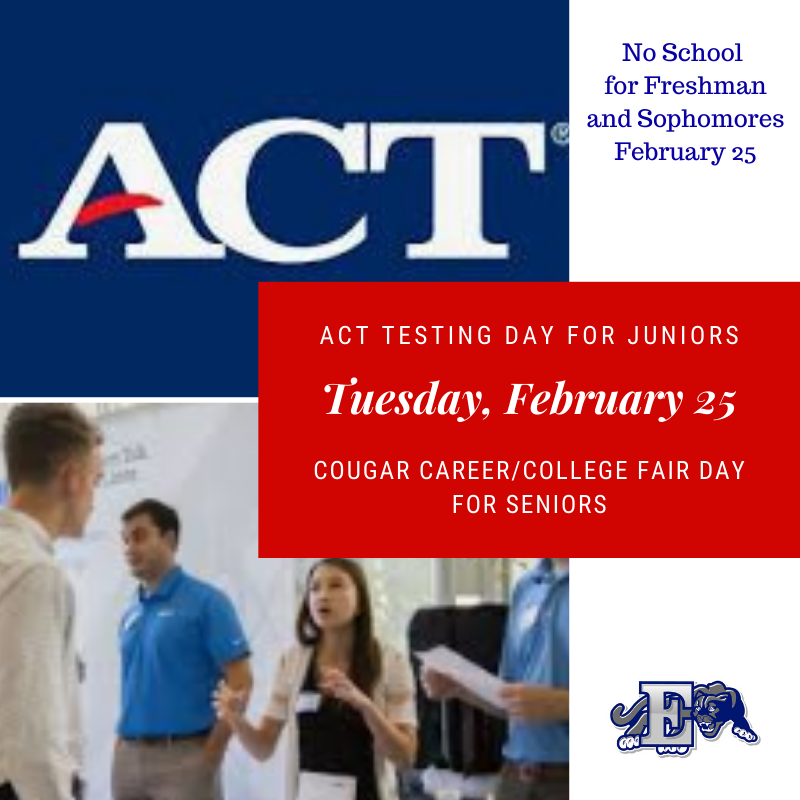 ACT Testing Day for Juniors and Cougar Career and College Fair for Seniors
Pam Pratt
Friday, January 17, 2020
Tuesday, February 25th is our ACT Testing Day/Cougar Career and College Fair. All Juniors will take the ACT starting at 8:00 a.m. Seniors will have a Senior breakfast to celebrate their class at 8:15 a.m. Then Seniors will be participating in the Cougar Career and College Fair in the gym. The Cougar Career and College Fair is an excellent opportunity for seniors to interview with potential employers for summer or full-time employment after high school, and/or gain additional information from regional colleges.
There will be no school for Freshmen and Sophomores.
Juniors will be dismissed once testing is completed around 12:30 p.m.
Seniors are dismissed at 11:00 a.m. after the Cougar Career and College Fair.
Bus service for Juniors and Seniors will depart Edgewood High School at 2:45 p.m.
If students or parents have any questions about the events planned on February 25th, please contact a member of the EHS Administration team.