EDIT MAIN
ScholarshipS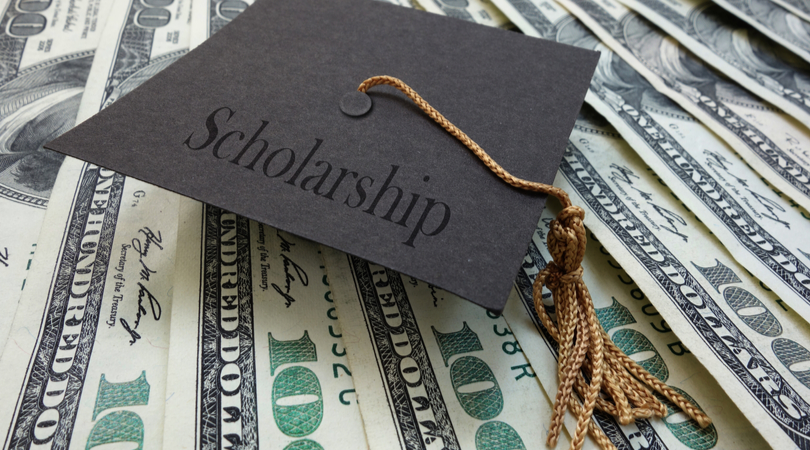 The EHS Counseling Department is frequently notified of scholarships throughout the year which are then posted on this Scholarship web page. If you are looking for other scholarship opportunities, take time to search what's available throughout our community. Many organizations may offer awards for future and current college students. Ask your parent/guardians' employers and unions if they sponsor scholarships for children of employees. Take advantage of scholarship search and matching services for local, regional, state, and national awards and college-specific scholarships. More information on the scholarship search process can be found on the US Department of Education's website for Financial Aid.
All scholarships offered within the current school year will be archived after their deadline for submission has passed. A link to all archived scholarships for the current school year will be added at the end of this page. This reference list would allow individuals to refer to a specific scholarship that was offered earlier this year.
Active Scholarships:
**Disclaimer** The scholarship list promotes the opportunities that Edgewood High School has been made aware of. This list is not all inclusive of all scholarship opportunities. Counselors at Edgewood High School encourage students to exhaust all resources and opportunities, even those not included in this list.
Niche 'No Essay' Scholarship
Deadline: November 30, 2020
Open to all high school and college students. Log in to create a free account to apply.
Application and more information can be found here.
2020 Caring.com Student-Caregiver Scholarship
Deadline: December 31st, 2020
Interested students should visit the application page to get started. Applicants will be asked to submit a short essay of 1,500 words or less addressing the following questions:
Who are you caring for and how are you involved as their caregiver?
How has your role as a caregiver influenced the decision for your major / career path?
How would this scholarship be helpful to you in your current student-caregiving role?
Application and more information can be found here
GE Reagan Foundation Scholarship Program
Deadline: January 5th, 2021
High school senior applicants must demonstrate leadership, drive, integrity, citizenship.
Application and more information can be found here
Foot Locker Scholar Athletes
Deadline: January 8, 2021
The Foot Locker Scholar Athletes program honors student-athletes who demonstrate exceptional academic ability and strong leadership skills in sports, in their schools, and within their communities. Students must have a GPA of 3.0 or higher.
Application and more information can be found here
Robert A. Cunningham Memorial Scholarship
Deadline: Tuesday, January 12, 2021 (applications must be postmarked or received by 5 pm)
Eligibility Criteria:
Be a primary member of GECU.*
Be a college-bound high school senior with a strong academic record.
Be involved in volunteer activities.
Access Application here or pick one up at the nearest GE Credit Union location.
Profiles in Courage Essay Contest
Deadline: January 15th, 2021
Eligibility: Applicants must submit an application and essay for consideration. The essay topic asks applicants to describe and analyze an act of political courage by a US elected official who served during or after 1917.
Application and more information can be found here
Hamilton Community Foundation Scholarships
Deadline: January 22, 2021
The Hamilton Community Foundation manages the competitive process of more than 200 scholarship opportunities which includes everything from the creation of applications to making the scholarship payments.
Note that all scholarship opportunities for graduating seniors have a deadline of January 22, 2021.
Here are a few materials that will help you with completing the application:
List of awards and volunteer/employment/extracurricular activities
Academic transcript from most recent semester - high school seniors must include first semester senior year (you'll need your counselors email for this)
ACT and/or SAT scores
An essay about your reasons for your choice of college, chosen course of study, career goals, plans for financing your education, and information on past activities benefiting your community
Your financial information including family household income
FAFSA Student Aid Report (PDF file only)
More information can be found here
Application portal can be found here
Butler Rural Electric Cooperative Scholarships
Deadline: February 1, 2021 at 5 p.m.
Butler Rural Electric Cooperative's scholarships are used to encourage the youth in our community to further their education. The Children of Members scholarship competition includes Children of Members scholarships, the Michael L. Sims Scholarship, and R. Fred Woodruff scholarships. The application deadline is Monday, February 1, 2021 at 5 p.m. Read the 2021 Children of Members Scholarship rules before applying for the scholarship. To qualify for the Children of Members Scholarship, you must:
Be the child or legal ward of a Butler Rural Electric Cooperative residential member living in a residence receiving electricity from Butler Rural Electric Cooperative at the time of the scholarship competition. Grandchildren and other relatives of cooperative members are not eligible to apply for this scholarship unless the applicant is the legal ward of the member.
Be a graduating high school senior at the time you apply for the scholarship. College students and students who are beginning their college career but are not high school seniors are not eligible for this scholarship.
Have a cumulative grade point average of 3.5 or above on a 4.0 scale, or equivalent standing on a nontraditional scale.
Butler Rural Scholarship Application can be found here
Jackie Robinson Foundation Scholarship
Deadline: February 1st, 2021
The Jackie Robinson Foundation provides four - year scholarships of $30,000 and extensive support services, including career guidance and internship placement, to highly motivated African American students.
More information and application can be found here
Miami Regionals: First Time Merit Scholarship
Deadline: February 1, 2021 (must apply for admission to Miami Regionals by this date)
As an incoming first time freshman, you may qualify for Miami Regionals Merit Scholarships. Merit scholarships are highly competitive and, thus, not guaranteed. No separate application is required. Completed admission applications received by February 1 for the upcoming fall will be considered for merit scholarship awards. To be eligible, students must have:
22+ composite score on ACT
3.25 or higher cumulative GPA
*Application: there is no separate application. Admission applications must be received by 2/1, in order to be eligible.
OSU Butler County Alumni Association Scholarships
Deadline: February 1st, 2021
Students must have applied to the Ohio State University and rank within the top 25% of the Senior class.
Additional information and application can be found here
Middletown Community Foundation Scholarship
Deadline: February 14, 2021
Middletown Community Foundation Scholarships for High School Seniors are primarily available to students who live in the greater area of Middletown, Ohio or attend one of the seven schools located within the service area of the Middletown Community Foundation: Bishop Fenwick, Edgewood, Franklin, Madison, Middletown, Middletown Christian or Monroe High Schools. The criteria vary by scholarship and were set by the original donor of each scholarship. We ask for financial information from all applicants for our local scholarships.
All applicants should be registered in college or have decided without a doubt to attend college in the fall. If you are not certain you will be attending school in the fall, please do not apply for scholarships at this time.
In order to apply, set up an account here
AAA School Safety Patrol $1,000 Grant
Deadline: February 26, 2021
AAA Ohio Auto Club is offering high school seniors the opportunity to apply for one of five $1,000 grants by competing in the AAA School Safety Patrol $1,000 Grant Scholarship Program. The program is limited to high school seniors who once served as a member of the AAA School Safety Patrol and is designed to help former School Safety Patrol members further their education after graduation.
More information and Application can be found here
Miami Regionals: College Credit Plus Scholarship
Deadline: Admission Application - February 1st, 2021; Scholarship Application - March 15th, 2021
Students must be a former Miami University Regionals College Credit Plus (CCP) student applying for Admission upon high school graduation.
Applicants must first complete an Admission Application which must be received by February 1, 2021. Next, applicants must submit the College Credit Plus Scholarship Application by March 15, 2021. More information can be found here.
College Credit Plus Scholarship Application can be found here.
Thomas & Galbraith MAX Scholarships for Leadership
Deadline: March 31st, 2021
The MAX Scholarship for Leadership values integrity, kindness and commitment. The MAX Scholarships for Leadership are a way for us to celebrate and reward these qualities in our 2021 graduates. Through these scholarships we will recognize outstanding individuals who have demonstrated integrity, kindness and commitment in school, at home, and within our community.
More information and application can be found here
Anthony Munoz Foundation Scholarship
Deadline: May 15th, 2021
Eligibility:
1. Be a graduating high school senior and meet NKU admission academic requirements. NKU scholarship award recipients must have a minimum 2.5 high school grade point average.
2. Attend a high school in the Tri-State region, defined as the counties of: a. Kentucky – Boone; Bracken; Campbell; Gallatin; Grant; Kenton b. Indiana – Dearborn; Franklin; Ohio; Switzerland; Union c. Ohio – Brown; Butler; Clermont; Clinton; Greene; Hamilton; Highland; Montgomery; Preble; Warren
3. Apply to Northern Kentucky University to pursue a bachelors degree and have freshman standing by the fall of 2021.
4. Demonstrate a desire and intent to overcome adversity, have financial need, excel academically, and fulfill a leadership role in the community
5. Attend the award ceremony held in June, 2021 in Mason, OH
6. Complete, and submit to the Anthony Muñoz Foundation, all required materials within the stated deadlines for consideration of the award
7. If chosen as a scholarship recipient, students must meet Northern Kentucky University Scholarship renewal criteria.
Application can be accessed here