EDIT MAIN
ScholarshipS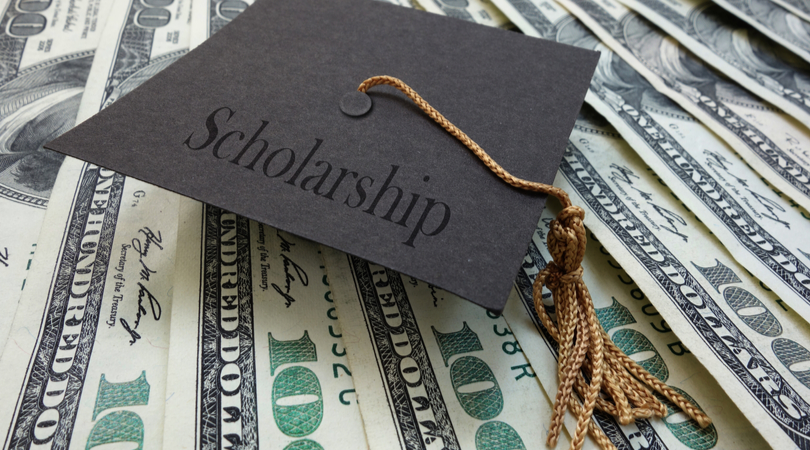 The EHS Counseling Department is frequently notified of scholarships throughout the year which are then posted on this Scholarship web page. If you are looking for other scholarship opportunities, take time to search what's available throughout our community. Many organizations may offer awards for future and current college students. Ask your parent/guardians' employers and unions if they sponsor scholarships for children of employees. Take advantage of scholarship search and matching services for local, regional, state, and national awards and college-specific scholarships. More information on the scholarship search process can be found on the US Department of Education's website for Financial Aid.
The current scholarship opportunities are listed below. Following this section, you'll find a link to any expired scholarships that were offered for this school year. Any scholarship that has passed its deadline has been included in the link at the end of this page. This is a reference list in case you would need to refer to a specific scholarship that was offered earlier this year.
Active Scholarships:
**Disclaimer** This scholarship list promotes the opportunities that Edgewood High School has been made aware of. This list is not all inclusive of all scholarship opportunities. Counselors at Edgewood High School encourage students to exhaust all resources and opportunities, even those not included in this list.
ANTHONY MUNOZ FOUNDATION SCHOLARSHIP
DEADLINE: NOVEMBER 29, 2019
Eligibility:
Be a graduating high school senior and meet NKU admission academic requirements. NKU scholarship award recipients must have a minimum 2.5 high school grade point average.
Attend a high school in the Tri-State region, defined as the counties of:
Kentucky – Boone; Bracken; Campbell; Gallatin; Grant; Kenton
Indiana – Dearborn; Franklin; Ohio; Switzerland; Union
Ohio – Brown; Butler; Clermont; Clinton; Greene; Hamilton; Highland; Montgomery; Preble; Warren.
3. Apply to Northern Kentucky University to pursue a bachelors degree and have freshman standing by the fall of 2020.
4. Demonstrate a desire and intent to overcome adversity, have financial need, excel academically, and fulfill a leadership role in the community.
5. Attend the award ceremony held on Sunday, June 8, 2020 in Mason, OH.
6. Complete, and submit to the Anthony Muñoz Foundation, all required materials within the stated deadlines for consideration of the award.
7. If chosen as a scholarship recipient, students must meet Northern Kentucky University Scholarship renewal criteria.
Click here for the application
Hamilton Community Foundation Scholarships
Accepting applications beginning December 20, 2019 THROUGH January 21st, 2020.
Various scholarship opportunities are available to Edgewood students through the Hamilton Community Foundation. To begin the process, first you must set up your account.Once you have completed and submitted your application, you do not have to do anything else. The system will automatically match you to the scholarships for which you qualify.
More information to set up a student account in order to apply, can be found here.
Robert A. Cunningham Memorial Scholarship
Deadline: Tuesday, January 14, 2020 (applications must be postmarked or received by 5 pm)
Eligibility:
Be a primary member of GECU.*
Be a college-bound high school senior with a strong academic record.
Be involved in volunteer activities.
*Applications can be found in the main office, by visiting: gecreditunion/org/promotions, or stop by a Credit Union office.
Miami Regionals: First Time Merit Scholarship
Deadline: February 1, 2020 (must apply for admission to Miami Regionals by this date)
Eligibility: As an incoming first time freshman, you may qualify for Miami Regionals Merit Scholarships. Merit scholarships are highly competitive and, thus, not guaranteed. No separate application is required. Completed admission applications received by February 1 for the upcoming fall will be considered for merit scholarship awards. To be eligible, students must have:
22+ composite score on ACT
3.25 or higher cumulative GPA
*Application: there is no separate application. Admission applications must be received by 2/1, in order to be eligible.
Miami Regionals: Engineering Technology Opportunity Scholarship
Deadline: February 1, 2020 (must apply for admission to Miami Regionals by this date)
Eligibility: Incoming first time freshmen who are majoring in Engineering Technology. This award is $3,000 per academic year and can be renewable up to 3 years.
Students must:
Complete Admission application by Feb 1
High school GPA minimum of 3.0
ACT / SAT test scores
FAFSA on file by Feb 1, 2020
AK STEEL SONS AND DAUGHTERS SCHOLARSHIP
DEADLINE: FEBRUARY 14, 2020 (SCHOLARSHIP APPLICATION DOES NOT OPEN UNTIL DECEMBER 2ND)
The AK Steel Sons and Daughters Scholarship is a competitive scholarship program designed specifically for AK Steel employees, and it rewards students for their outstanding academic achievement, leadership and community involvement.
Eligibility: Eligible students must be in final year of high school and the child, stepchild, or adoptive child of an eligible employee.
Applications are available beginning December 2nd, 2019. To find more information and directions to apply, click here.
Louie F. Cox Memorial AK Steel Foundation African American Scholarship
DEADLINE: FEBRUARY 14, 2020 (SCHOLARSHIP DOES NOT OPEN UNTIL JANUARY 1, 2020)
Eligibility: The Louie F. Cox Memorial AK Steel Foundation African-American Scholarship is available to African American Students graduating from any High School located in Butler or Warren Counties in Ohio, or who resides in either Butler or Warren County of Ohio.
Completing the online application is a double submission process. You will fill out our general application, which will filter you into all scholarships for which you are eligible through the Middletown Community Foundation. When you click "Submit Application" the first time, if qualified, you will be sorted into the field of candidates for LOUIE F. COX MEMORIAL AK STEEL FOUNDATION AFRICAN AMERICAN SCHOLARSHIP. At that time, you will see you need to complete and submit more information that is specific to this scholarship.
Click here for additional information and steps for completing the application process.
MIDDLETOWN COMMUNITY FOUNDATION SCHOLARSHIPS
DEADLINE: FEBRUARY 14, 2020 AT 11:59 PM (SCHOLARSHIP APPLICATION DOES NOT OPEN UNTIL JANUARY 1, 2020)
Eligibility: Middletown Community Foundation Scholarships for High School Seniors are primarily available to students who live in the greater area of Middletown, Ohio or attend one of the seven schools located within the service area of the Middletown Community Foundation: Bishop Fenwick, Edgewood, Franklin, Madison, Middletown, Middletown Christian or Monroe High Schools. The criteria vary by scholarship and were set by the original donor of each scholarship. We ask for financial information from all applicants for our local scholarships.
All applicants should be registered in college or have decided without a doubt to attend college in the fall. If you are not certain you will be attending school in the fall, please do not apply for scholarships at this time.
This application does not open until January 1, 2020. For more information and to begin application, click here.
SINCLAIR COLLEGE REGIONAL MERIT SCHOLARSHIP
DEADLINE: FEBRUARY 29, 2020
Eligibility: Scholarships are offered to current high school seniors (class of 2020) who will be graduating in 2020 and are planning to enroll at Sinclair as full-time students in the upcoming school year. This scholarship is $2,000 per year and is renewable based on criteria. Students can apply during the specified deadlines by clicking the red "Apply Online to Scholarships" button on the Scholarships page at Sinclair.edu.
3.0 cumulative high school GPA is required
Priority application is open November 1 - December 15, 2019
General application is open January 1 - February 29, 2020
Students should complete FAFSA at www.fafsa.ed.gov prior to applying.
Student should upload an electronic copy of their unofficial copy of high school transcript and a letter of recommendation.
Students will access the scholarship application using their Sinclair username and password, which means they need to apply for admission first.
Joe Nuxhall Miracle League Fields scholarship
Deadline: March 1, 2020
Eligibility: Are you a player or volunteer with the Joe Nuxhall Miracle League fields in Fairfield? if so, be sure that you apply for the Miracle League Scholarship, with one-time scholarship amounts varying from $250-$1,000. completed applications are due by march 1, 2020.
For more details or to print an application, please CLICK HERE
McCullough-Hyde Memorial Hospital Nursing Scholarship
Deadline: April 1, 2020
The Auxiliary of McCullough-Hyde Memorial Hospital/TriHealth is offering financial assistance to individuals preparing to work toward an RN degree. Our primary objective is to provide scholarships to candidates in our hospital service area who demonstrate potential to succeed in nursing. The award for each of the two scholarships for the 2020-21 school year is $3000. The scholarships are funded in part by gifts sent to the Auxiliary in memory of, or appreciation of, designated individuals.
Click here for criteria for scholarship and access to application forms.
Expired Scholarships:
CLICK HERE for the list of expired scholarships from the 2019-2020 school year.