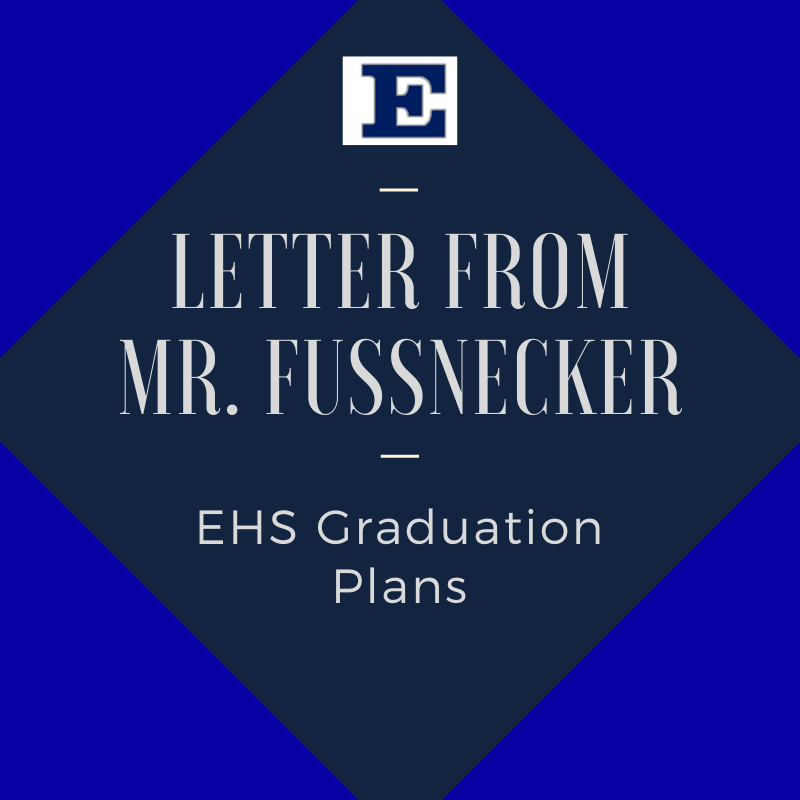 Letter from Mr. Russ Fussnecker regarding Graduation Plans for the Class of 2020
Pam Pratt
Friday, May 08, 2020
Dear Edgewood Seniors, Parents, Guardians, Staff, and Community members,
At this time, I feel it is necessary to provide some additional information to our families regarding the Class of 2020 graduation ceremony. I understand that a traditional ceremony, as we have experienced in years past, is probably everyone's preference. Unfortunately, the COVID-19 pandemic has impacted educational decisions throughout the country, including Edgewood's graduation.
Governor DeWine, the Butler County Health Department, and the Ohio Department of Education have all weighed in and provided guidance, along with restrictions. When we were first informed of the restrictions in all of our personal lives, schools were not excluded. At that point, we immediately began to meet and discuss the various options that we would be permitted to provide concerning graduation. We waited as long as possible to finalize our plan to see if the existing restrictions would lighten up and allow us to provide our traditional Edgewood graduation ceremony for our students. However, a plan had to eventually be executed because many students have post-graduate plans that have time constraints that could not be adjusted, such as leaving for the military. Many options came across my desk, including virtual graduations, drive-thru ceremonies, delivering or mailing diplomas, etc. We know our seniors want to be together to celebrate their graduation, but due to the restrictions from the State, we were unable to fulfill this request. It was important to select an option that was both compliant and would also allow students with underlying health conditions to participate.
We wanted to make sure that our graduates were given the opportunity to wear a cap and gown and be able to walk across the stage to receive a diploma. We have also contracted a professional company to assemble a stage in front of the Edgewood High School Event Entrance, decorated just as it has been at previous graduations. We have secured Waycross Community Media and LifeTouch Photography for a Graduation DVD/digital download, and Lifetouch will be providing professional photographers to take two pictures of your graduate receiving their diploma. If you have a loved one or a family member out-of-state that cannot attend graduation, we will be offering LIVE graduation coverage, which will begin promptly on June 9th and June 10th at 8:00 a.m. to 8:30 p.m. A link to watch the ceremony will be provided at a later date. For the first time, we have partnered with Local Channel 12 to highlight our special graduation to air during a specified time period on TV. Each graduate will be included in the video and will be allotted two minutes to go across the stage and receive their diploma. The plan that we created allows for the family and friends of the graduates that are in the vehicles to be in close proximity to the stage, allowing for pictures to be taken.
Please know that we are all heartbroken that this pandemic has changed our typical end of the year celebrations to recognize our seniors. All of our lives have been impacted in so many ways and this decision has been very difficult and not taken lightly.
Sincerely,
Russ Fussnecker
Superintendent - Edgewood City Schools