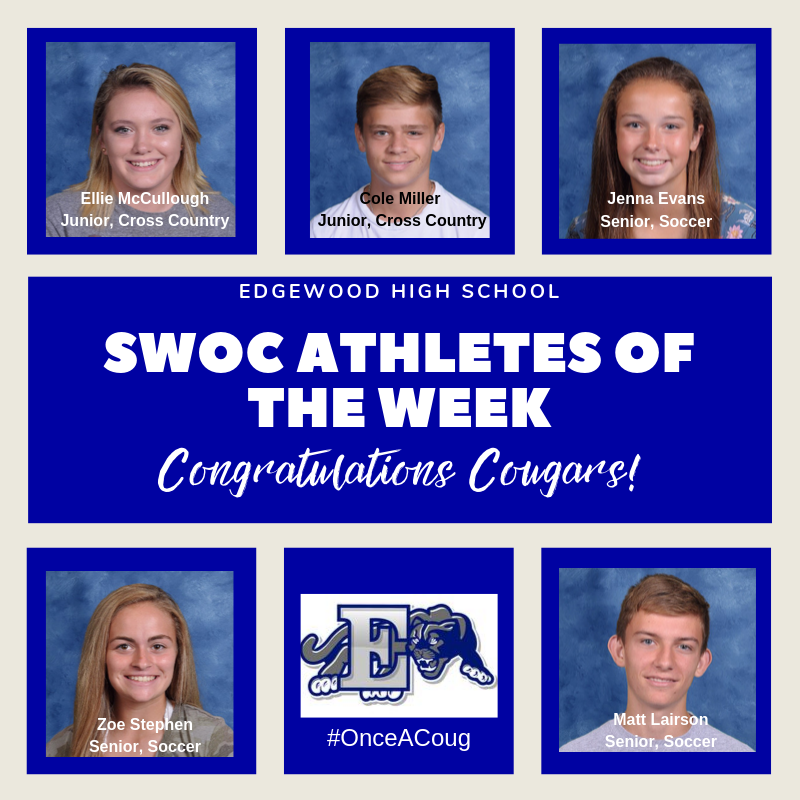 SWOC Athletes of the Week
Pam Pratt
Tuesday, September 24, 2019
Congratulations to the following five EHS students who were named SWOC (Southwestern Ohio Conference) Athletes of the Week!
Cole Miller - Cross Country
As a Team Captain this year, Cole has a great work ethic and puts in the effort that allowed him to earn a Career PR at Bellbrook this week.
Ellie McCullough - Cross Country
Ellie is new to Cross Country and she sets goals for herself as a runner. She works to achieve her goals and PR'd this week at Bellbrook.
Jenna Evans - Soccer
Jenna, a center-back, has had a great week by anchoring down a shutout this past week.
Zoe Stephen - Soccer
Zoe, a center-mid, had a goal and an assist this week.
Matt Lairson - Soccer
Matt was instrumental in helping the Cougars secure two league victories, over Mt. Healthy and Northwest, and one draw, against Ross, this week.