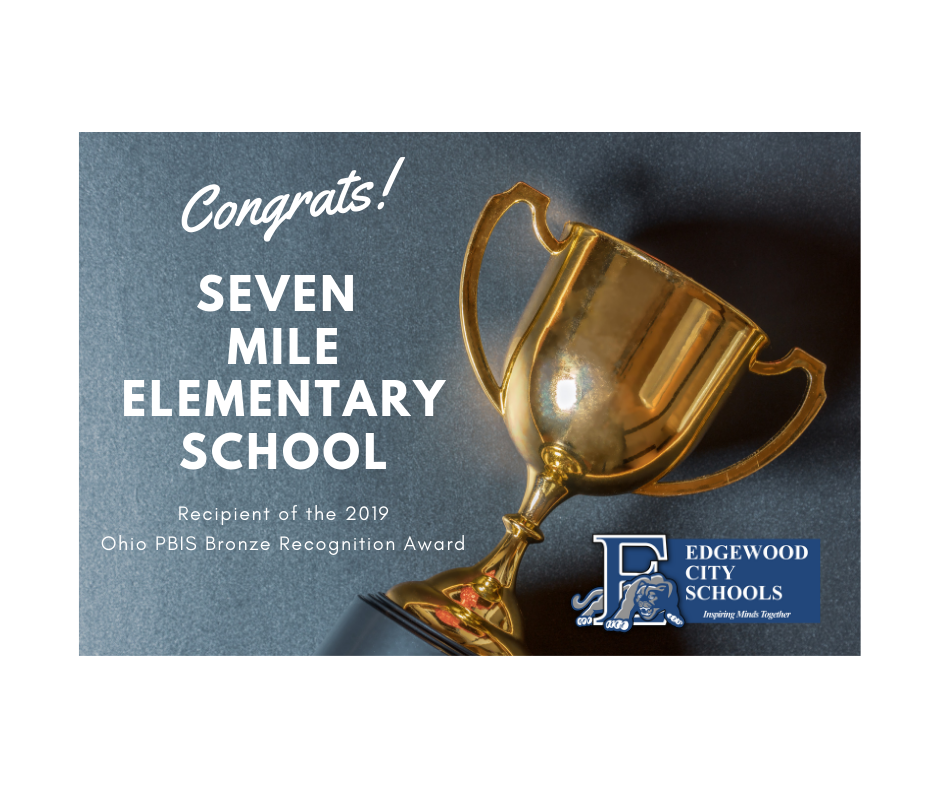 Seven Mile Elementary Earns Ohio PBIS Bronze Recognition
Pam Pratt
Wednesday, June 12, 2019
Seven Mile Elementary School has earned the Ohio PBIS (Positive Behavioral Interventions and Supports) Bronze Recognition Award for 2019. This accomplishment was the result of implementing specific strategies that positively impacted student behavior and overall performance during the 2018-2019 school year. The Seven Mile Elementary School team, led by Principal Lori Harrison, implemented PBIS in every classroom, from Kindergarten through 5th Grade, starting in August 2018. Their dedication, collaboration, and creative efforts resulted in providing students and staff with a program that clearly and consistently reinforced expectations and positive behaviors. "I am ecstatic that Seven Mile Elementary is being recognized by the state for all our hard work in implementing PBIS. Our staff has embraced the program with open arms and we have seen results. They collaborated with not only each other, but our students as well, and have created a positive school environment. This new climate promotes and reinforces student success at Seven Mile Elementary," said Mrs. Harrison.

The Ohio PBIS Recognition Awards System identifies schools that exemplify best practices in the implementation of PBIS. These schools demonstrate best practices within their system, and must be open and transparent in sharing their knowledge and resources with other schools. Seven Mile Elementary School applied for recognition earlier this year. The school agreed to external verification of its application data and confirmed its openness to involvement with the Ohio PBIS facilitation/coaching supports. There are three levels that are recognized by the Ohio PBIS Award System: Bronze (for schools who are in their first year of implementing PBIS), Silver, and Gold. Bronze level schools are required to consistently utilize data-based problem solving in existing team structures. These schools are expected to produce evidence of organized team meeting notes and data based program planning as part of their PBIS strategy.
The Seven Mile Elementary Team will be recognized at the 2019 Ohio PBIS Showcase in November by the Ohio PBIS Recognition Awards System for achieving the PBIS Bronze Recognition Award.